Why choose an air heater?
Webasto can ensure that, even on the coldest day, your cab is lovely and warm before you even start work! air heaters are easy to install and cost effective. A cab that is cosy warm even before starting work, a clear view without ice and snow – and all that with easy installation and handling. Air heaters make your vehicles more comfortable, efficient and cost-effective, fit for work no matter how cold the temperature is outside!
The air heaters heat up the air directly in the heater and bring it into the cabin. Air Top air heaters are designed for the fast and economical heating of drivers' cab and interior and for the regulation of temperatures in cargo holds. Webasto air heater range includes models starting with an output range of 0.9 up to 22 kW.
Air Top air heaters: Compact & powerful!
Within a short time Webasto air heaters generate pleasantly cozy warmth on your boat. Various warm air outlets ensure excellent dehumidification of the vessel. Air heaters are particularly suited for sailing and motor boats of up to 45 feet.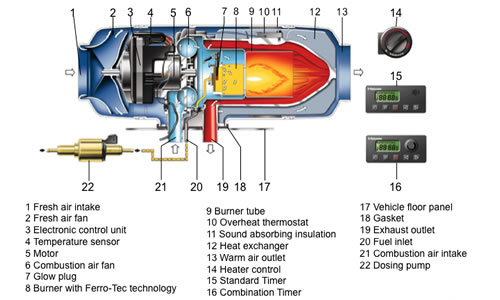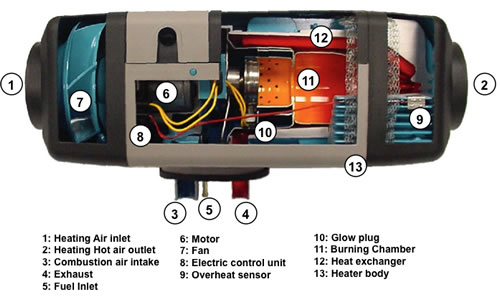 Advantages
Heat output from 2 kW up to 5.5 kW
Short heat-up times thanks to effective heat output
Complete installation kits for quick and simple retrofitting
Effective dehumidification of cabins
Whisper-quiet running
Ideal for sailing and motor boats up to 45 feet
Complete independence from shore power or seawater temperature
Retrofit Parking Heater – no more ice-scraping
Get into a cosy warm car and enjoy the many benefits a Webasto Parking Heater has to offer. Start the day in a good mood by upgrading your car with a Parking Heater from Webasto.
In many everyday situations, having a preheated car pays off and offers you extra comfort. Do you want a frozen car in the company parking lot after work, get into a cold car after skiing or scrape ice in an evening gown? In the winter you drive more often than you think. And you don't always have your warm garage available. Do the math yourself. You will be amazed at how quickly the purchase of a Webasto parking heater pays for itself.
Webasto stands for technological superiority and outstanding quality. Because Webasto tests its own heaters under extreme conditions that are more stringent than all the test institutes. This is also substantiated by the awards by unbiased institutes and media.