Why choose a water heater?
Its a well known fact that starting an engine from cold is not only inefficient, but increases component wear and thus decreases engine life. This results in not only higher fleet operating costs, but more increased fuel requirements and vehicle downtime. Webasto water heaters provide the ideal solution to eliminate these problems. The water heater is integrated into the engine's own coolant circuit and brings all fluids and components up to the optimum operating temperature even before starting work.
Our comprehensive range of water heaters with outputs from 2.2 up to 35 kW ensures that there is a heater to suit every application. So the engine start is guaranteed even at low outside temperatures. Furthermore, the driver's cab is pleasantly pre-heated. This eliminates the need for fuel-intensive idling while stationary and during rest breaks.
Coolant water heaters: Comfort just like at home.
Webasto water heaters not only ensure even heat distribution in the boat, but also provide domestic hot water by utilising a boiler. These compact heaters can be installed in even the smallest engine room and can be easily combined with Webasto chiller air-conditioners to form an integrated climate control system.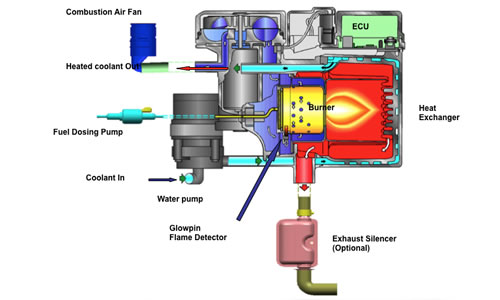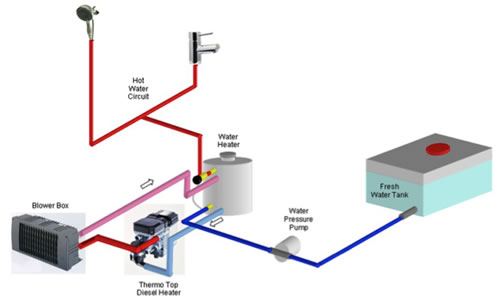 Advantages
Heat output from 2.5 kW up to 35 kW
Quiet distribution of heat through silent radiators or fan heat exchangers
Hot water for the galley and showers
Remote installation saves cabin space and ensures silent operation
Excellent possibilities for combining with Webasto chiller air-conditioning systems